Nan Kitiarsa College of the Holy Cross
I'm so grateful to have these past 2 months in D.C to learn first hand how policies are made in Congress and the work of the media, think tanks, lobbyists and non-profits in influencing the process. My time in Congress taught me the importance of giving people a voice to tell their story and to respond to them and make sure that they know they are heard.
Naree Ketudat New York University
Thai-Americans are meant to be involved on Capitol Hill. It is clear everywhere we go, that Thai values go hand-in-hand with American values and that both communities can learn from each other. I feel more connected than ever to my Thai roots because of this process in D.C, and I know that I will continue to bring this newfound sense of self with me in my next steps as a professional.
Phet Srisupapol Thammasat University
I have had so many incredible and unique experiences which I could have never imagined. Particularly as a Thai-American, there are not many of us who are able to partake in this field, which means a limited representation of an area which needs improvement for the development of environmental, social and economic issues . I feel incredibly honored to have been selected to witness and participate in everything offered throughout this summer in Washington.
Natalie Tantisirirat University of Michigan
Looking back on my time in D.C., I'm so grateful for all the opportunities I've had and all the people I've met. But I've also learned that my Thai heritage has shaped so many interactions in a positive way. I've learned that I do have something to contribute to the discourse on foreign policy, when I incorporate my perspective as a Thai-American and my knowledge of the regional area. Diversity and representation is important, especially when it comes to the people working on foreign policy.
Past participantS
TANIP 2018
University of California Los Angeles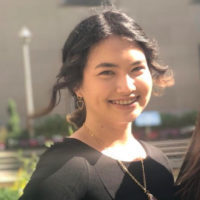 UNIVERSITY OF CALIFORNIA - BERKELEY